CRĪO Restaurant
CRĪO is the Best American Latin Restaurant in Chicago, we mix the culture and flavor four you.
We do not accept reservations. We welcome guests on a first come first serve basis.
Available on DoorDash!
Carry-Out
Serving Brunch Friday, Saturday and Sunday,
Carry Out  Available
#SupportLocalBusinesses
Brunch Special Quesabirria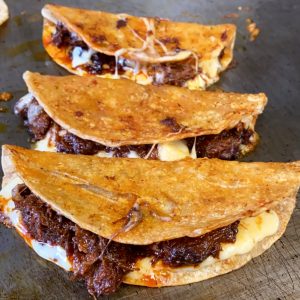 Temporary Hours
Monday & Wednesday
Closed
Tuesday Dinner
4PM - CL
Thursday Dinner
4PM - CL
Friday Brunch / Friday Dinner
10AM - 3PM / 5PM - CL
Saturday Brunch Saturday Dinner
10AM - 3PM 5PM - CL
Sunday Brunch
10AM - 4PM
Brunch Policies:
during brunch hours we only allow 90 MIN Seating maximum starting when the first person sits at the table.  
No more than 2 credit cards per table. 
Due to our small kitchen we don't allow substitutions or modifications
"some items are served with raw ingredients or are cooked to customer specification. 
"department of health advises that the consumption of raw or undercooked of animal origin such as beef, eggs, fish, lamb, pork, poultry, or shellfish may result in an increased risk of foodborne illness  individuals with underlying health official for further information. please be aware that our kitchen is not a nut-free or gluten-free kitchen. many of our ingredients use common cooking oils and utensils